May
2022
NUI Awarded Riyadh Nursery Project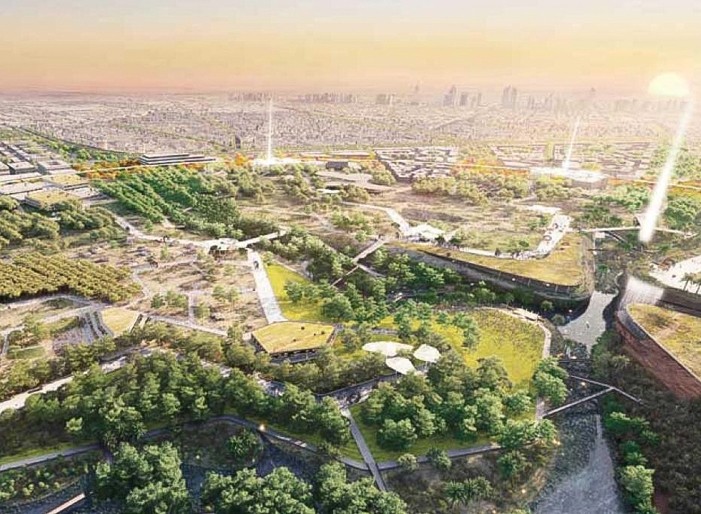 NUI Awarded Riyadh Nursery Project
May 2022
Nesma United Industries Co. has been awarded the King Salman Park Nursery project which will be the cornerstone for King Salman Park in the center of Riyadh. It will serve as an acclimatization nursery helping plants to survive Riyadh's climate and will contribute towards the Green Saudi Vision 2030.
The nursery is being designed and built by Nesma United Industries' landscaping division using the latest innovations in landscaping to act as the essence of King Salman Park and beautifying the city for generations to come.
May
2022
NW&E Bringing Potable Water To Cent...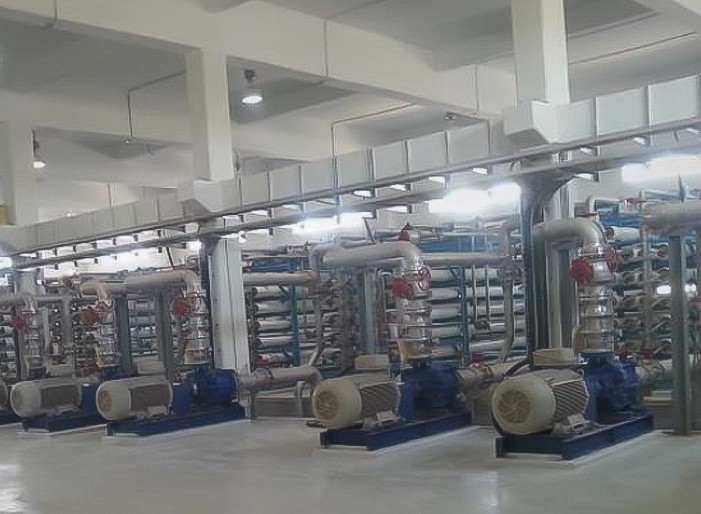 NW&E Bringing Potable Water To Central KSA
May 2022
Nesma Water & Energy has won the O&M Dawadmi RO Plant project which will bring clean drinking water to approximately 330,000 residents of Dawadmi and Afif. The plant will use reverse osmosis to purify water from deep wells. Valued at well over eleven million riyals, this National Water Co. project is an extension of an earlier project that NW&E completed in the region and is expected to bring new jobs for Saudis living in the central area while contributing to the Kingdom's national water strategy.
May
2022
Nesma United Industries Wins Correc...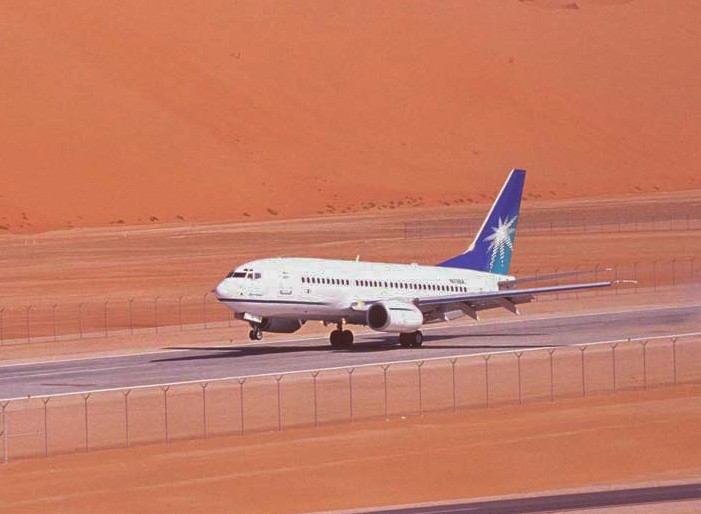 Nesma United Industries Wins Corrective Maintenance Contract
May 2022
NUI has garnered a one-year contract from Aramco Aviation to provide corrective maintenance at 13 airstrips for airfield ground lighting systems (AGL), instrument landing systems (ILS) and weather stations. Of the 13 airstrips, eight are at remote and five at non-remote sites. The project also involves the supply of spare parts, installation, design support, along with testing and commissioning services for AGL and ILS upgrades that the client may request additionally during the contract period. Non-remote sites include KFIA Aramco Apron & Taxiway, Ras Tanura Airstrip, Udhaliyah, Abqaiq and several helipads in the Eastern Province. Remote sites include Tanajib, Shaybah, Haradh, Khurais, Hawtah in addition to Pump Stations 3, 6 and 10. The contract will be implemented by NUI's Aviation Services Department which completed an upgrade of the AGL system at Hawtah Airstrip last year.
NUI has a long standing relationship with ADB Safegate, a leader in airfield solutions, and together NUI and ADB have been providing similar niche airfield related services to key clients in KSA such as Royal Saudi Air Forces and SANG. These aviation related services are being offered under the company's Industrial & Ventures Division.
Apr
2022
Nesma Water & Energy Wins Water Tra...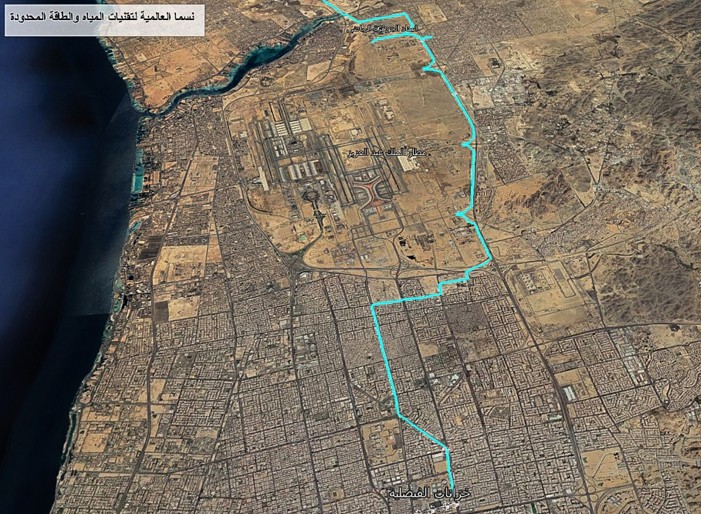 Nesma Water & Energy Wins Water Transmission Project
Apr 2022
NW&E was awarded a 36-month, SAR 415M waterline project to address the increased demand in an ever-expanding Jeddah. The new line will carry water that originates at the Rabigh desalination plant from storage near the Taiba district 42 kilometers to the Al Faisaliyah reservoir with some branch transmission points along the way. This will bring new stability to water availability for many residents. As the pipeline will pass through heavily populated areas, NW&E engineers will bore underground to install water ducts ranging in diameter from 400mm to 1600mm along with 201 valve chambers. This milestone project which was awarded by the National Water Company, is in keeping with the Vision 2030 national water strategy and is an indicator of continuing prosperity for NW&E.
Apr
2022
Nesma Security Secures ROSHN Contra...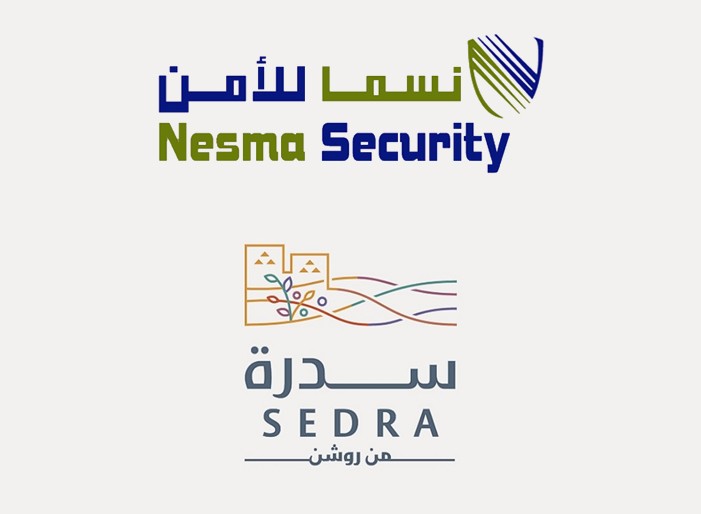 Nesma Security Secures ROSHN Contract 
Apr 2022
Nesma Security will provide security services for ROSHN Real Estate company's SEDRA housing project in Riyadh. The three-year contract, valued at SAR 27 million, will employ 72 Saudis. SEDRA has been designed to be a modern, energy efficient community that promotes sustainability. The development will span 20 million square meters. ROSHN is owned by the Public Investment Fund.
Apr
2022
Namat Wins Key Contract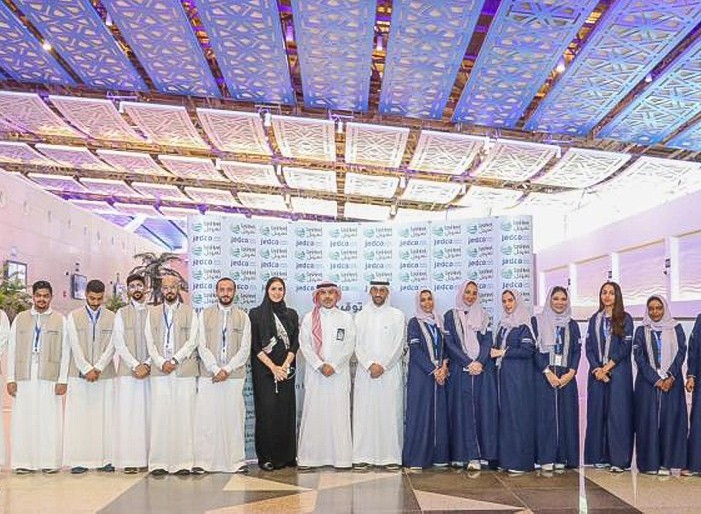 Namat Wins Key Contract
Apr 2022
Namat has been awarded a contract with TasHeel Holding Group worth over SAR 200,000. The tailoring centers will make uniforms for employees of the new "Ask Me" information service at King Abdulaziz International Airport in Jeddah. The contract calls for 450 abaya style uniforms with scarf and 200 vests for male "Ask Me" workers. Namat looks forward to serving the needs of TasHeel Holding and its many subsidiaries well into the future.
Mar
2022
Jollibee Opens 13th KSA Store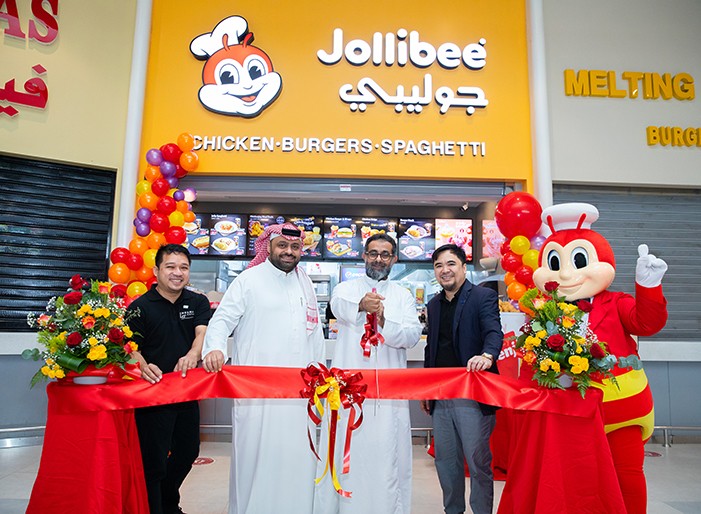 Jollibee Opens 13th KSA Store
Mar 2022
Jollibee is building a global brand as it fulfills its mission to serve great-tasting food and bring the joy of eating to everyone. Now that joy can be felt at Al Andalus Mall in Jollibee's newest store which opened this month. The store inauguration was highlighted by the ribbon cutting ceremony led by Jollibee Nesma United CEO Faisal Y. Bamhrez, Operations Head Tristan San Pedro, Turki Basabrain, HR and Admin Manager and the rest of the leadership team. One of Jeddah's busiest malls, Al Andalus has more than 11 million visitors per year to its 416 stores and exhibits spread across 120,000 square meters. The Jollibee store is open from 10:00 am to midnight daily, and is located at the mall's food court.
Mar
2022
Nesma Security Co. Secures Metro Pr...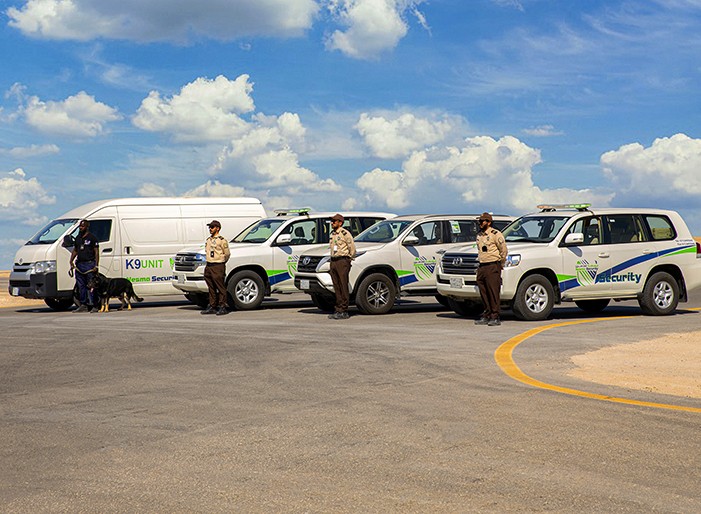 Nesma Security Co. Secures Metro Project
Mar 2022
Nesma Security Co. will provide security services for the Riyadh metro lines 3, 4 and 5 (the Orange, Yellow and Green lines). The SAR 65M project was awarded by Rekeep Saudi - an Italian company. This two-year contract, which can be extended for five years, will employ up to 500 people including guards and supervisors. The Riyadh metro is expected to serve over a million passengers daily the first few years and over three million per day within a decade, thereby reducing car usage and the associated fuel along with reduced traffic congestion, all in line with Vision 2030 plans. The high-tech trains will run on six lines and be managed and surveilled at a state-of-the-art control center. The system is expected to produce 7600 job vacancies annually. The Riyadh metro, currently in the trial phase, is expected to be fully operational sometime this year.
Mar
2022
Nesma & Partners Lays Foundation St...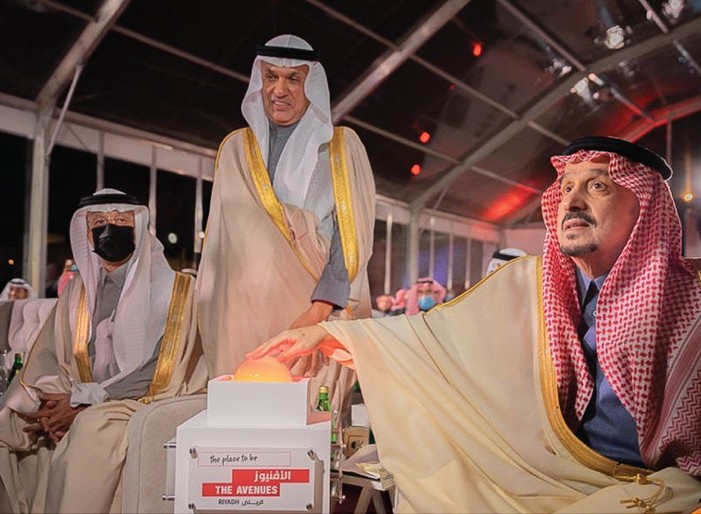 Nesma & Partners Lays Foundation Stone for Avenues Mall
Mar 2022
Nesma & Partners signed an agreement with the Riyadh Avenues Mall project owner, Shomoul Holding Company, to be the main contractor for Phase 1 of the project in November, 2021. In February, the foundation stone was laid under the patronage of HRH Prince Faisal bin Bandar bin Abdulaziz, the Governor of Riyadh Region. Avenues Mall is one of N&P's most significant projects currently underway, encompassing the design and construction of a luxury shopping mall with parking for over 15,000 vehicles, substation buildings, landscaping and external works.
Feb
2022
Nesma Infrastructure & Technology S...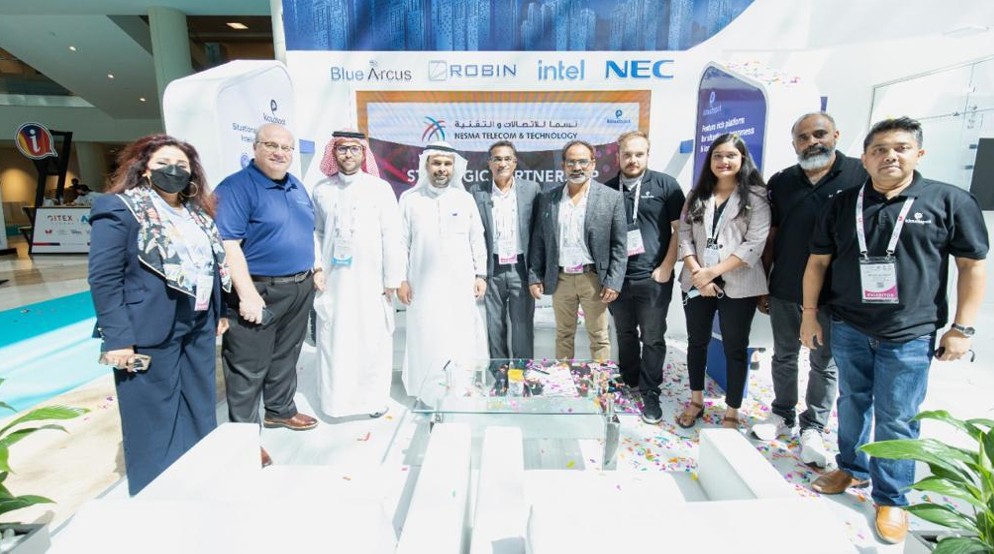 Nesma Infrastructure & Technology Signs MOU with Kloudspot
Feb 2022
NIT signed a memorandum of understanding with Kloudspot for cooperation in the field of AI. The agreement came after the two companies had reached an advanced level of cooperation in the area of seamless internet with the Red Sea Development Company's "Smart" destination initiative.
Feb
2022
Namma International Marine Services...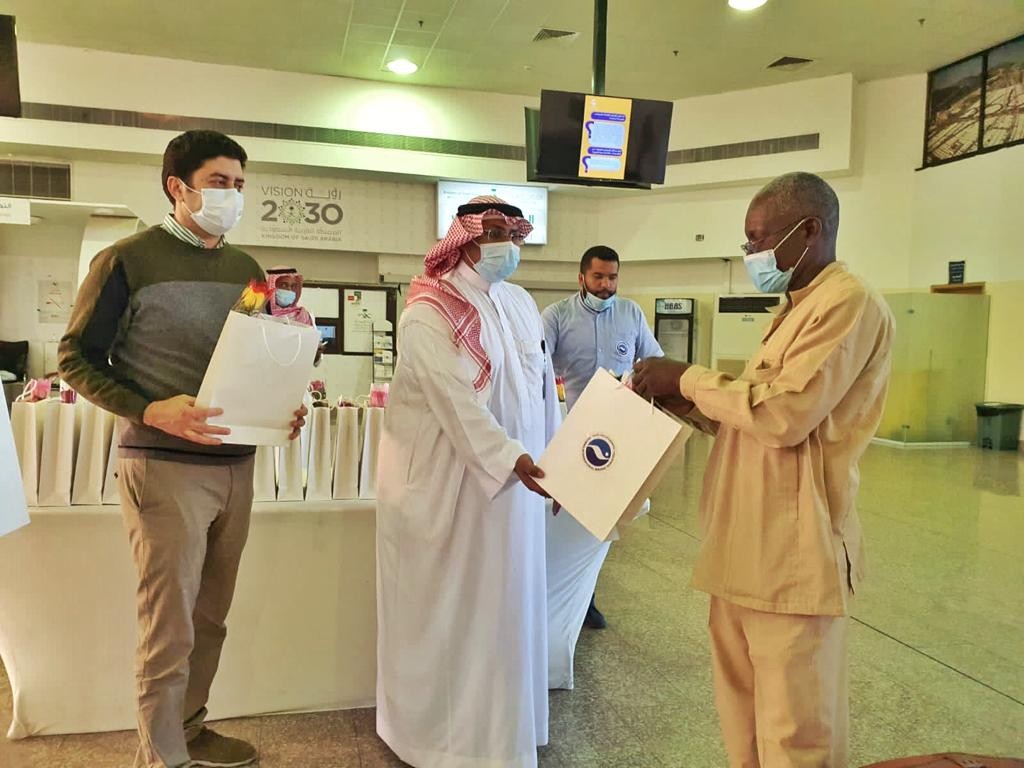 Namma International Marine Services Co. Welcomes Returning Pilgrims 
Feb 2022
Namma International Marine Services recently welcomed a group of Umrah pilgrims who sailed from Sudan. The pilgrims, the first after a long delay due to COVID-19 were each given a gift bag. In addition, the company hosted local dignitaries on board the ship Aziz providing them with a tour and complimentary lunch.
Feb
2022
NIT Receives Huawei Award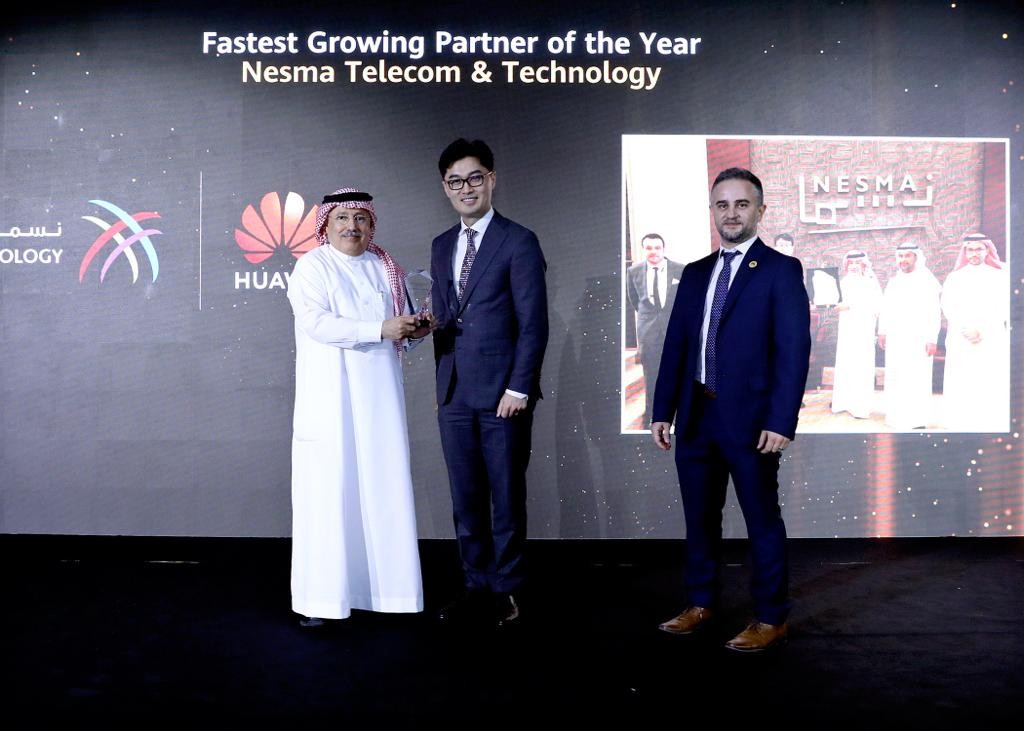 NIT Receives Huawei Award
Feb 2022
During Huawei's special Awards event in Dubai, Nesma Infrastructure and Technology was awarded as the Fastest Growing Partner for the year 2021. Fouad Alsherebi, NIT's Chairman, received the award from Mr. Eric Yang, Huawei's CEO in Saudi Arabia.
Jan
2022
Nesma Renewable Energy - Leadership...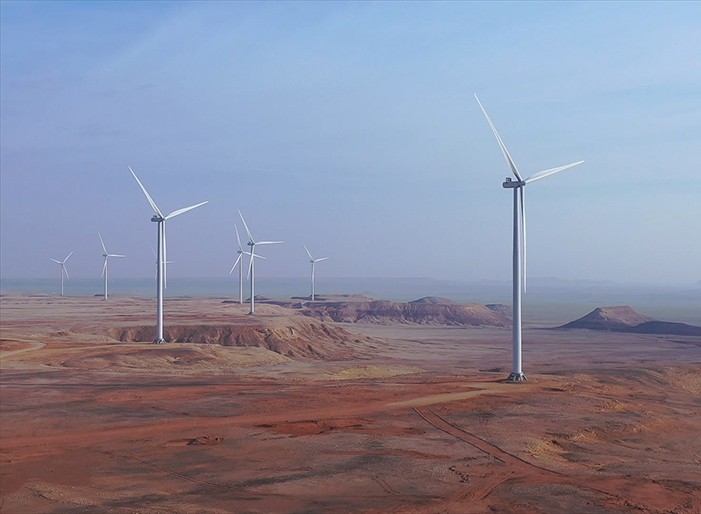 Nesma Renewable Energy - Leadership in Renewable Energy
Jan 2022
A consortium, including Nesma Renewable Energy (NRE) which is headed by CEO Amaan Lafayette, is in the construction phase of two large renewable energy projects in Saudi Arabia. Both projects are being executed by a joint venture of Masdar, EDF Renewables and Nesma Renewable Energy.
Nearing completion is the Dumat Al Jandal wind farm, the first of its kind in the Kingdom and the largest in the Middle East. This USD $500 million project uses 99 turbines to generate around 400MW of power from the wind. Located in the northern part of the Kingdom, this wind farm has already begun generating electricity and when completed this year, will be able to power 70,000 homes annually, displacing about a million tons of carbon dioxide each year. Under the terms of a 20-year power purchase agreement (PPA), the electricity generated will be purchased by the Saudi Power Procurement Company (SPPC), a subsidiary of the Saudi Electricity Company.
The second project is the South Noor solar PV project located 50km southeast of Jeddah. Using the sun to generate electricity, this 300MW solar field will connect to the main electric grid to power homes and businesses. The consortium has signed a PPA with SPPC, which authorizes the group to finance, design, build and operate the plant for 25 years based on an agreed-upon purchase price for the electricity generated.
This Jeddah solar power plant will utilize the latest technology in the photovoltaic (PV) market, combining bifacial PV modules with mounting structures that use single-axis tracking technology to maximize energy generation by following the sun's position throughout the day. State-of-the-art robots will also be used to clean the modules. The project is expected to be operational by the end of this year.
Renewable energy projects such as these are sustainable, reduce greenhouse gas emissions and help the country reduce its oil consumption. Per the Kingdom's Vision 2030, its National Renewable Energy program has a strategic goal to generate 50% of its energy from natural gas and renewable sources by 2030.
Jan
2022
Nesma Companies Win Prestigious Mid...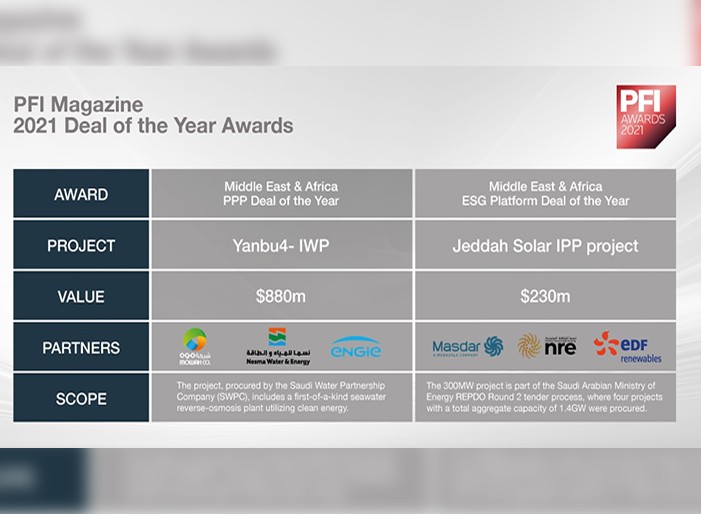 Nesma Companies Win Prestigious Middle East/Africa Awards
Jan 2022
Nesma Water & Energy Wins PFI Award
Project Finance International (PFI) named the Nesma Water & Energy consortium's Yanbu - 4 project as its "PPP Deal of the Year" for the Middle East & Africa region. The public private partnership project won because of its several innovations. As an independent water project with a 39km transmission pipeline - it is a Saudi first, and at a cost of about $880M USD is a major project. Another innovation is the inclusion of solar energy to provide approximately 20% of the operational power consumption and reduce the plant's impact on the environment. In addition, it is the first desalination project in the Kingdom to serve both holy cities of Makkah and Madinah with drinking water. Nesma Water & Energy has teamed up with Mowah and Engie on this project.
NRE Named in Environmental, Social & Governance Award
PFI awarded its ESG Platform Deal of the Year Award to Saudi's Renewable Energy Project Development Office round two solar program for the low solar price tariffs it was able to achieve. The program included the Nesma Renewable Energy 300MW solar power project in Jeddah, a public private partnership project (PPP) that is part of a consortium with Masdar and EDFR. PFI noted in its announcement that the price tariffs were some of the most competitive achieved globally.
Dec
2021
First Nuclear Plant in KSA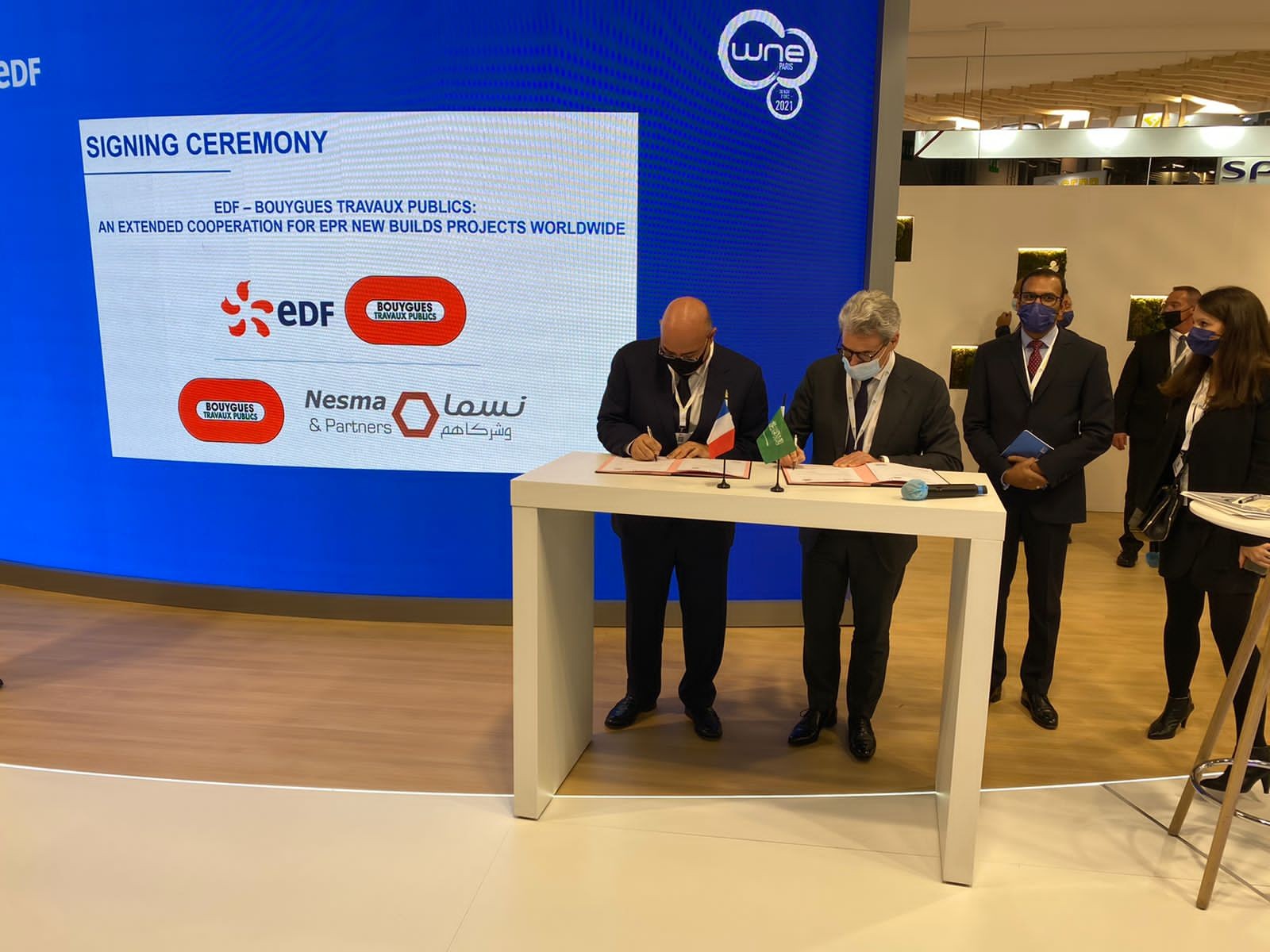 First Nuclear Plant in KSA
Dec 2021
Nesma & Partners signed an MOU with "Bouygues Travaux Publics" at the World Nuclear Exhibition in Paris, France to implement all civil and construction works at the first nuclear power plant in the Kingdom of Saudi Arabia.
The MOU was signed following establishment of a strategic partnership between Nesma & Partners and the nuclear electric power generation company Électricité de France.
Dec
2021
Nesma Water & Energy Begins Constru...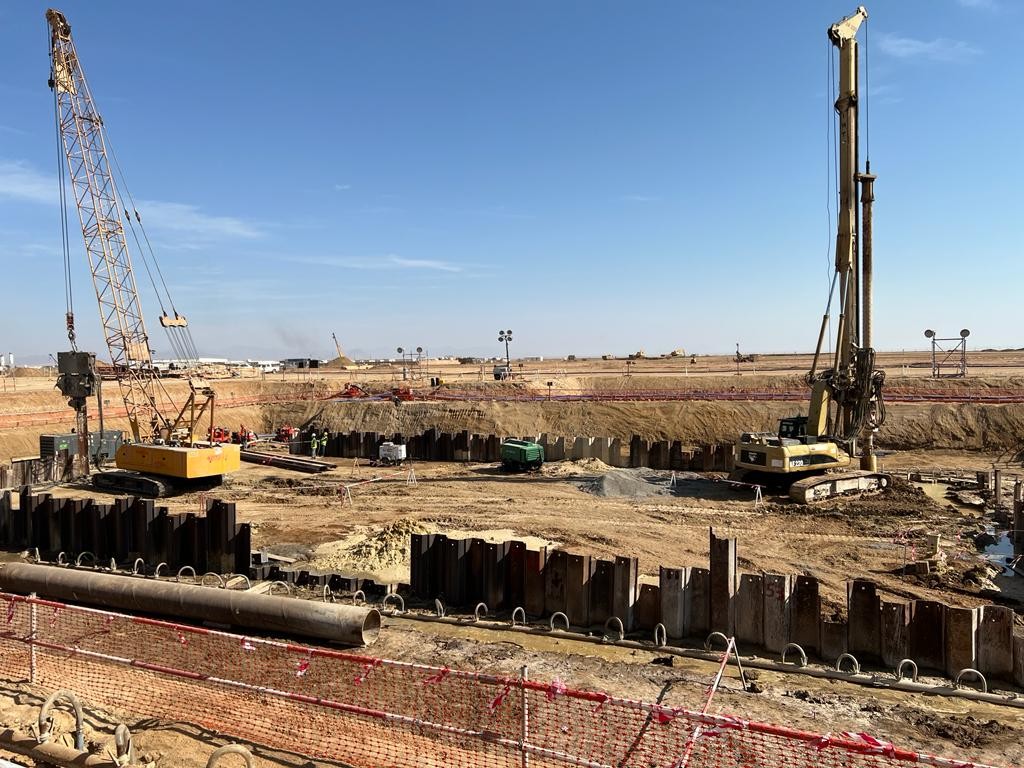 Nesma Water & Energy Begins Construction Phase
Dec 2021
NW&E began construction on the Yanbu-4 and the Jubail 3B water projects, both of which are reverse osmosis, desalination projects incorporating solar energy to lower operational costs.
In addition, both consortiums have chosen NW&E CEO Eng. Mahmoud Fallatah as Chairman of the Board. These two unique mega projects illustrate how NW&E is playing a leading role in the vital Saudi water sector
Nov
2021
Namat Creations Serve Formula 1, Th...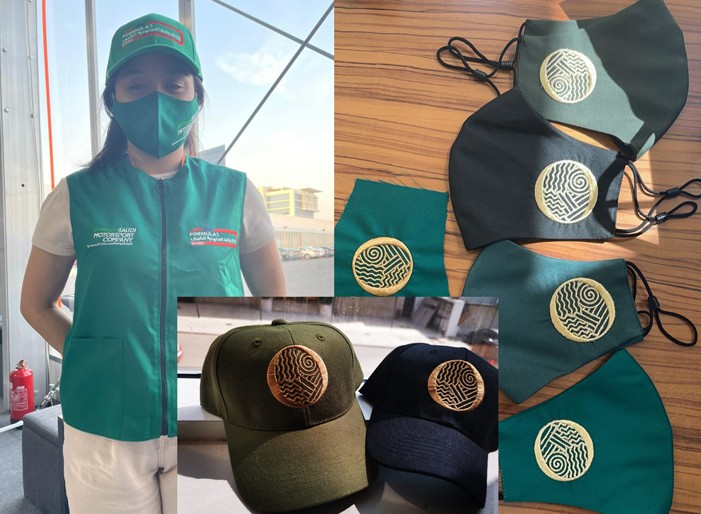 Namat Creations Serve Formula 1, The Groves
Nov 2021
Namat was chosen to create embroidered caps, T-shirts, vests and masks displaying slogans and logos for the Formula 1 race to be held in December at the new Jeddah Corniche Circuit. In addition, Namat will provide embroidered caps and facemasks for the Groves Zone at Riyadh Season.
Nov
2021
Nesma Telecom & Technology Rebrands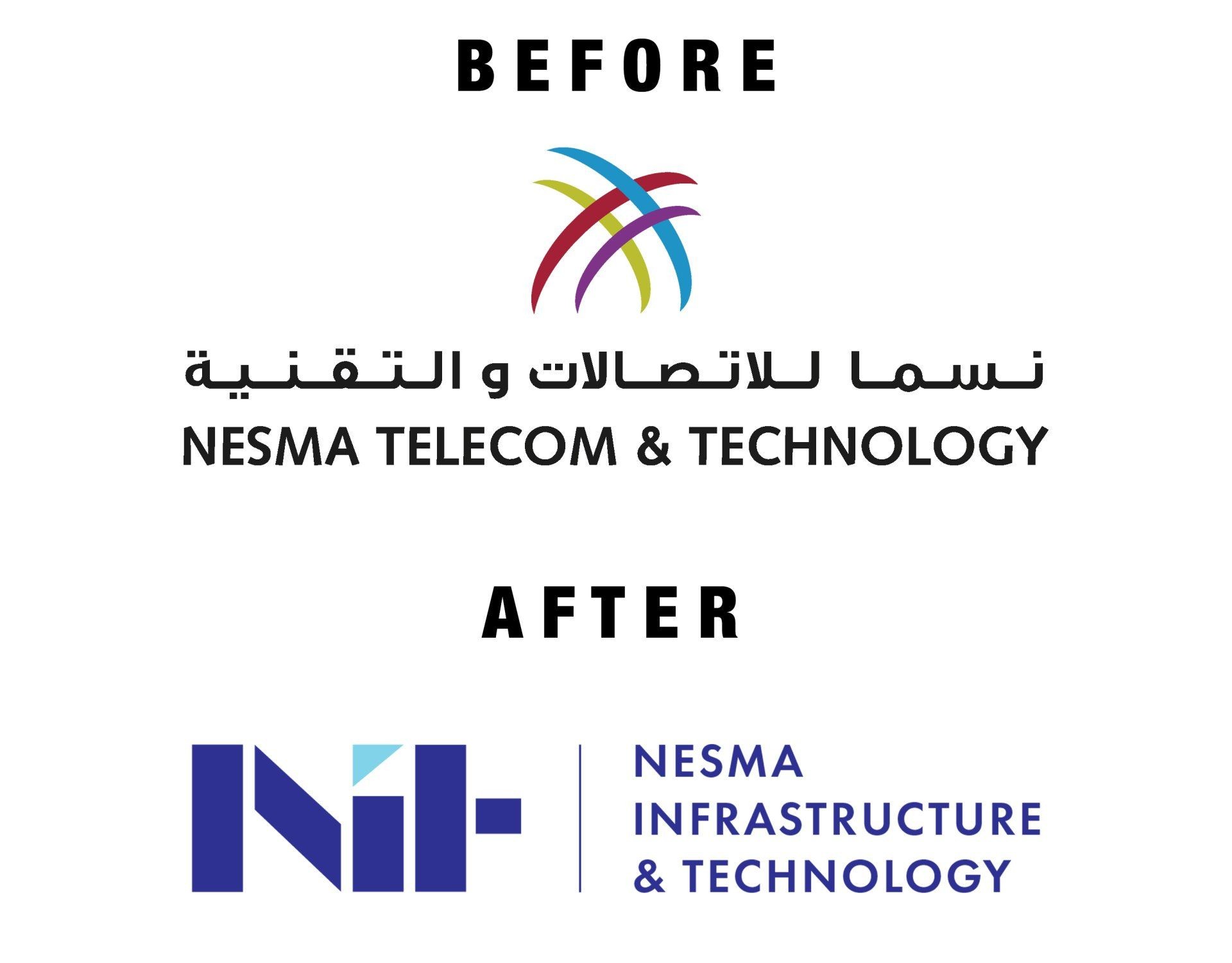 Nesma Telecom & Technology Rebrands
Nov 2021
On September 15th 2021, after a couple months' of brand development workshops, Nesma Telecom & Technology announced that it is changing its name to "Nesma Infrastructure & Technology" (NIT). The logo was inspired by a sky-view of a city grid.
Nov
2021
Nesma & Partners: Main Contractor f...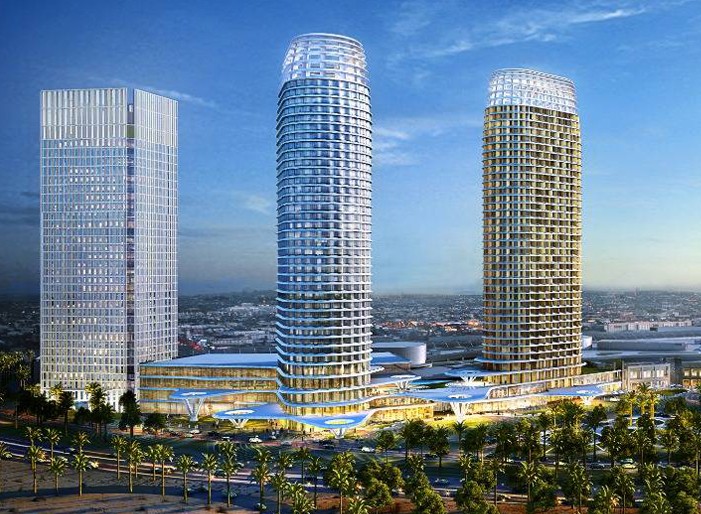 Nesma & Partners: Main Contractor for Avenues Mall, Riyadh
Nov 2021
Nesma & Partners (N&P) signed an agreement with Shomoul Holding Company to be the main
contractor for Phase 1 of The Avenues Mall in Riyadh. Valued at SAR 6.2 billion, The Avenues Riyadh Phase 1 Mall project is expected to produce nearly 40,000 job opportunities in the central region and play a significant role in promoting the Kingdom as a tourist destination while enhancing the retail and services sector.
One of the largest commercial malls in the Middle East.
Oct
2021
Jollibee Opens New Store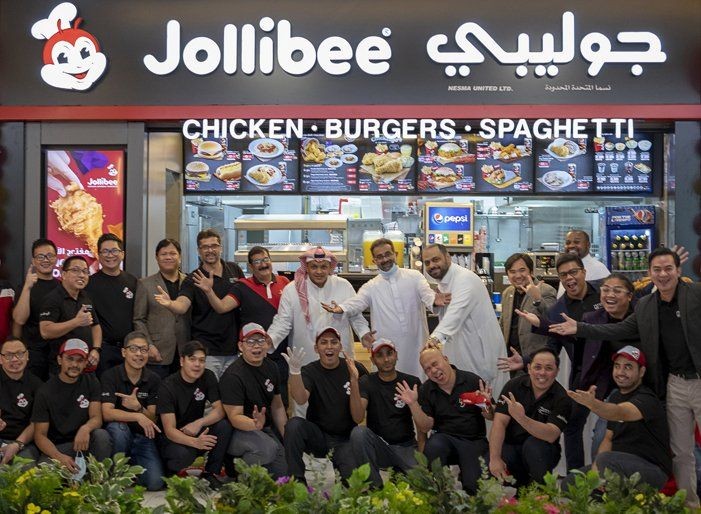 Jollibee Opens New Store
Oct 2021
Jollibee Saudi Arabia has opened a new store, their 13th in the Kingdom, at the Riyadh Gallery Mall. The store inauguration was highlighted by the ribbon cutting ceremony led by the leadership team including Faisal Y. Bamhrez, Tristan San Pedro and Turki Basabrain.
Riyadh Gallery Mall is in the top three malls for foot traffic and is known for big names in the fashion industry making it a go-to for shopping. The Jollibee store is located in the food court and is open from 10:00am to 11:00pm daily.